grants
Being a member of the Alliance has its benefits.
We are meeting the needs of hungry Arkansans by supporting our members with funding opportunities. During this past year, the Arkansas Hunger Relief Alliance has awarded over $420,000 to members across all 75 counties in Arkansas.
Current Grant Information:
Capacity Building Grant
In 2009, the Governor and the Arkansas General Assembly awarded the Arkansas Hunger Relief Alliance $188,827 to help build the capacity of local hunger relief organizations in Arkansas.  
Funds are intended to help expand or improve a local hunger relief organization's facility or physical radius. These funds cannot be used to pay salaries, operational expenses or purchase food.  
Local Hunger Relief Organizations (LHRO) are defined as food pantries, food rescue organizations, soup kitchens, shelters and other organizations that directly serve Arkansas families by providing food prepared on site (for example, a summer feeding site) or for personal use at home (for example, a food pantry). Member organizations may apply for Capacity Building Grants of any amount. However, grant requests of $5,000 and over are more difficult to fund.  
Examples of Capacity Building items: 
Kitchen appliances such as refrigerators, freezers, stoves, ect. 
Storage items such as shelving, plastic tubs, cabinets, metal racks, ect. 
Meal preparation items such as coolers, thermal bags, steam tables, utensils, mixing bowls, ect. 
Office equipment such as computers, printers, phones, ect.
Grant awards up to $5,000 
December 1st, 2021 – January 7th, 2022 
Requirements: 
Must be a Member of the Alliance 
Must provide the following documentation: 
501(c)3 letter or proof of church affiliation 

List of current board members 

Current annual budget 

Most recent year's complete financial statement 

Project Budget with quotes/bids
upcoming Grant cycle information
State Food Purchasing Program (SFPP) and Alliance Grants.
Members have the opportunity to apply for capacity building grants funded through the Alliance by the State Food Purchase Program. The grants enable member agencies to expand their capacity to deliver direct services, through the purchase of refrigerators, freezers, shelving, or other facility improvements. Agencies can also use grant dollars to improve educational programs they might offer or to expand their service areas. Grant applications are available from December through January, with awards made in February. Food purchased through the SFPP is available quarterly and is distributed through our regional food banks.
of all grants submitted in 2020 were awarded funding
in funding was awarded in 2020
THANK YOU TO OUR SPONSORS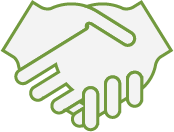 Are You In Need?
We would like to help you find the resources you need.
1400 West Markham Street, Ste 304, Little Rock, AR 72201
The Alliance Alert goes out to members, advocates and others who want to stay up on hunger issues in Arkansas. See our latest newsletter.