Oak Forest Garden Workday Recap
Thanks to our volunteers' help, the projects completed allowed Oak Forest Community Garden to expand its in-ground growing space by 2,150 square feet, an approximately 50% increase compared to what the garden utilized for in-ground cultivation during the 2022 season. A new hoop house will allow the garden to grow certain crops later into the fall/winter and start planting earlier in the spring, which means the garden can continue producing even during the winter months.

The Arkansas Hunger Relief Alliance and University District Development Corporation, with sponsorship from Love, Tito's, the philanthropic heart of Tito's Handmade Vodka, undertook an enhancement project at Oak Forest Community Garden at 2600 South Monroe Street in Little Rock on Friday, October 21, 2022. It was a good day of good work!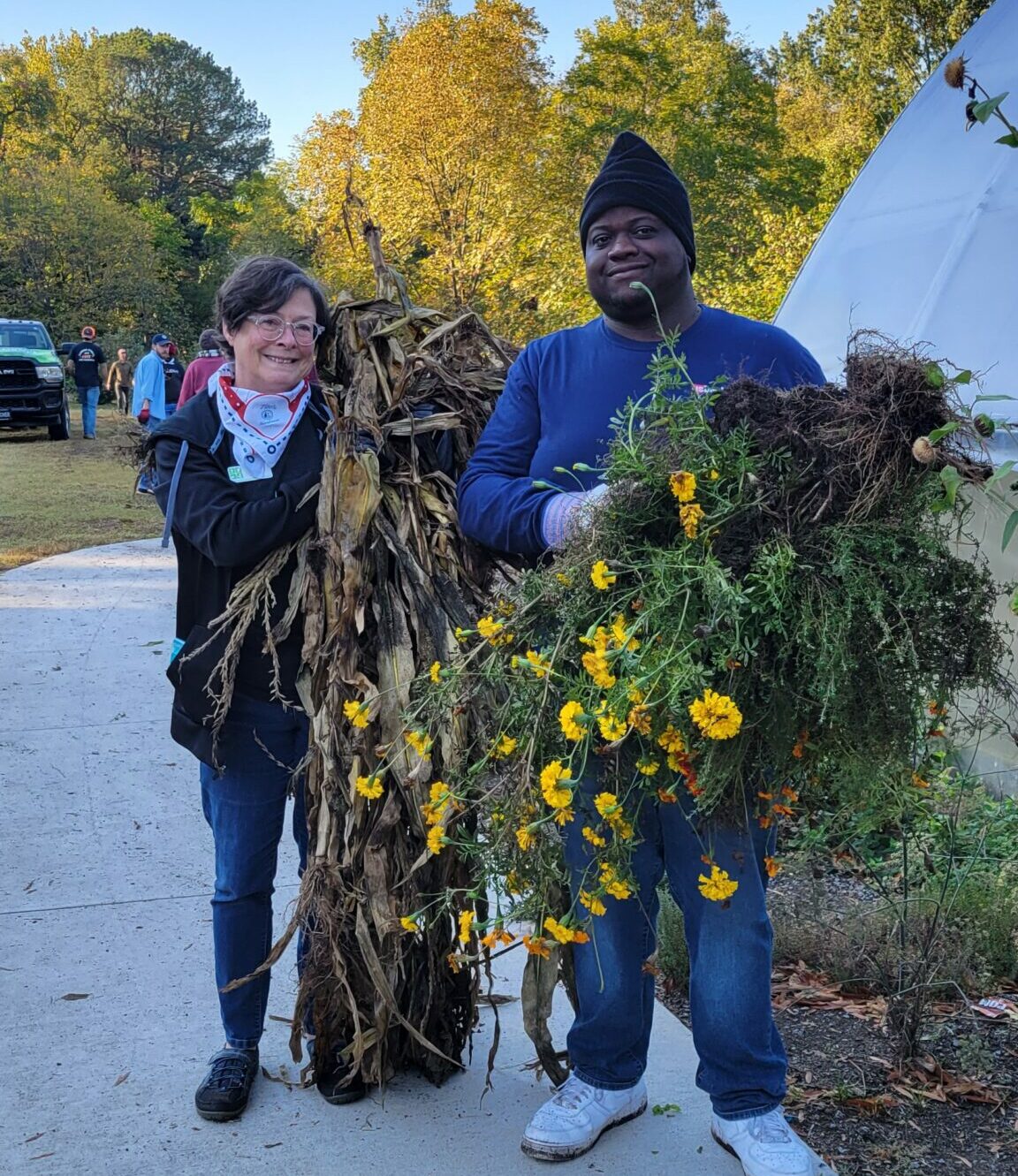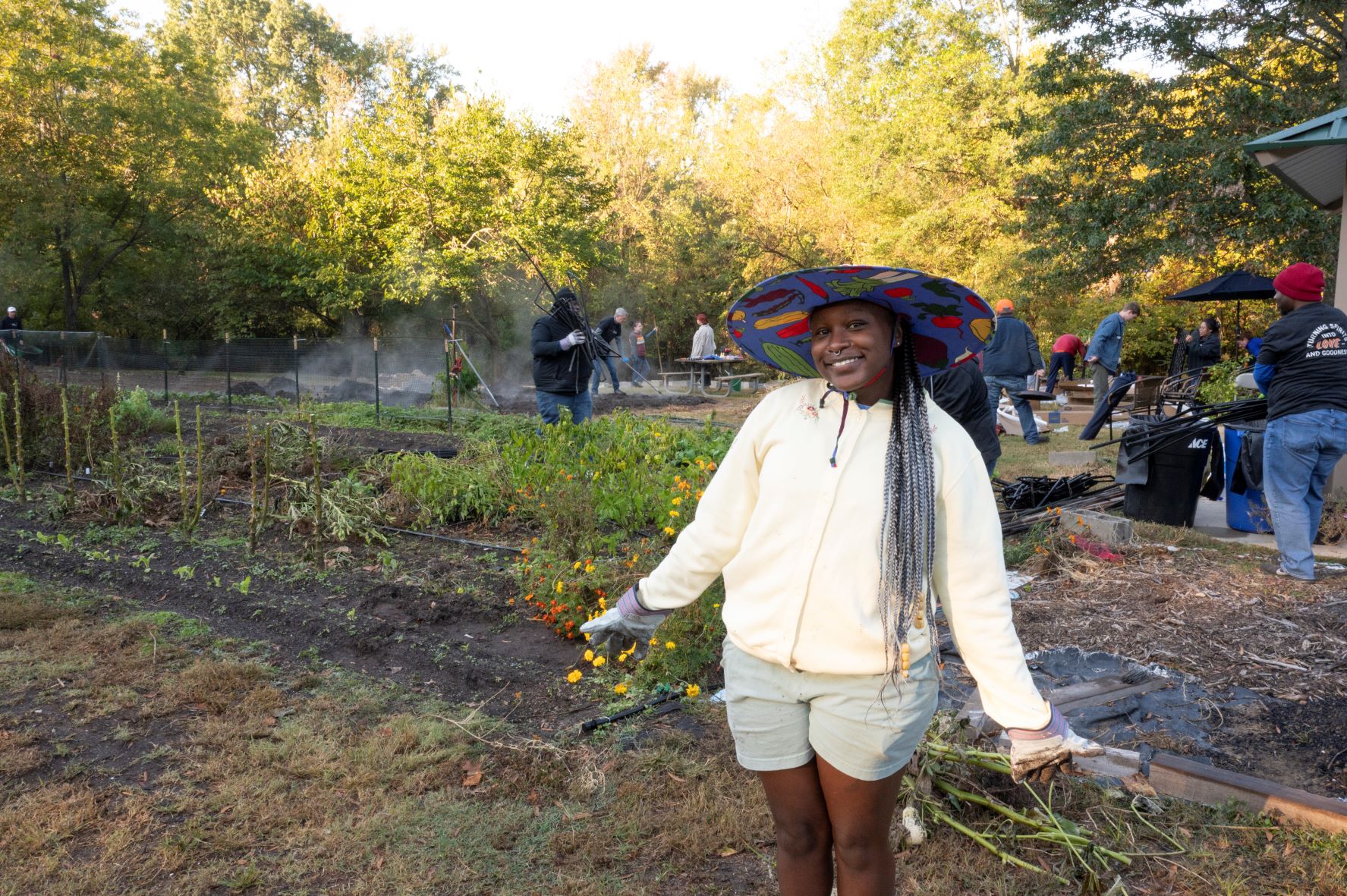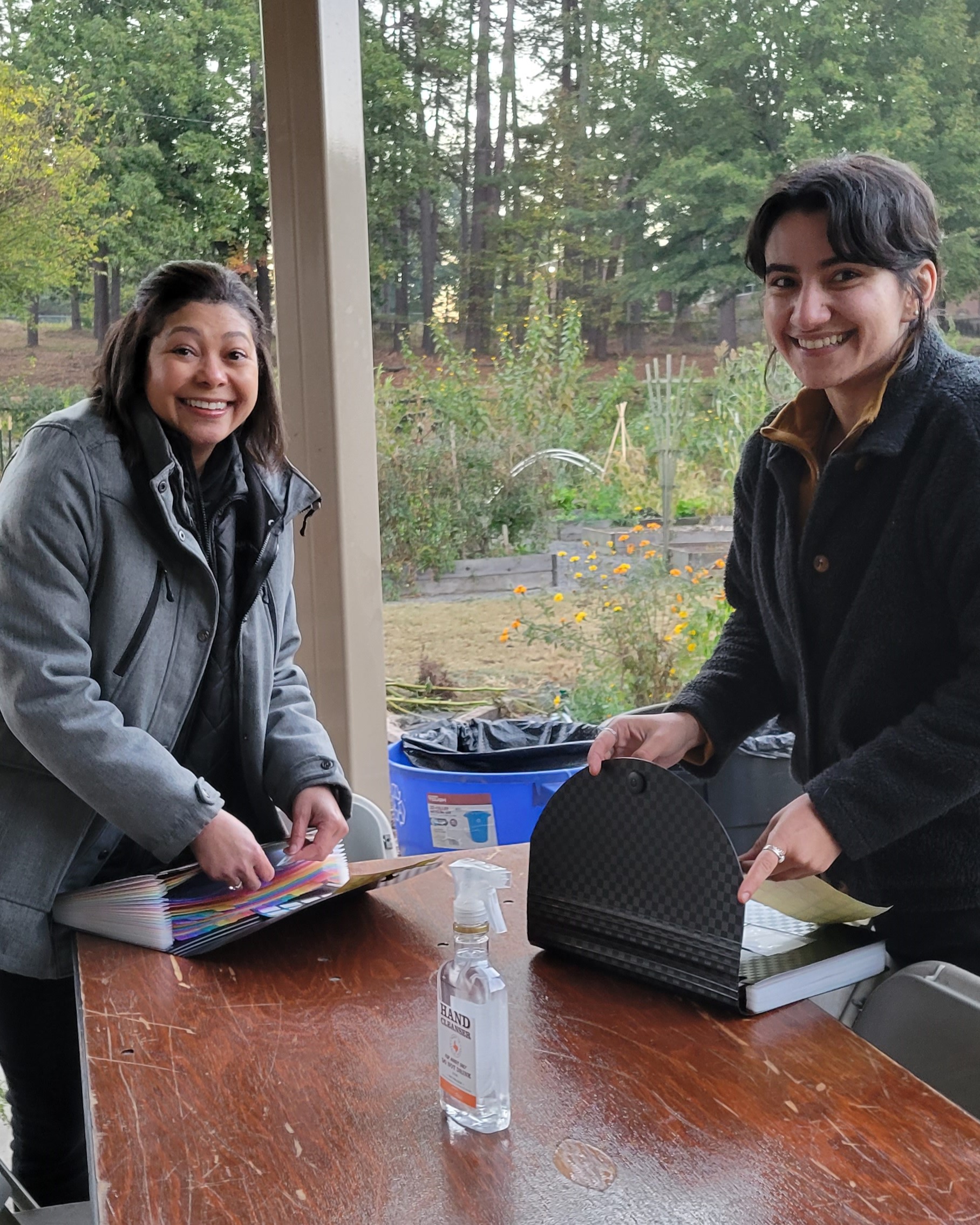 Volunteers had smiles handy as they worked on a variety of garden tasks for this Love, Tito's Block to Block project. Love, Tito's sponsors "Block to Block" projects across the country, creating community gardens and farms "one block at a time." The project at Oak Forest Community Garden was the largest Block to Block project Love, Tito's sponsored this year.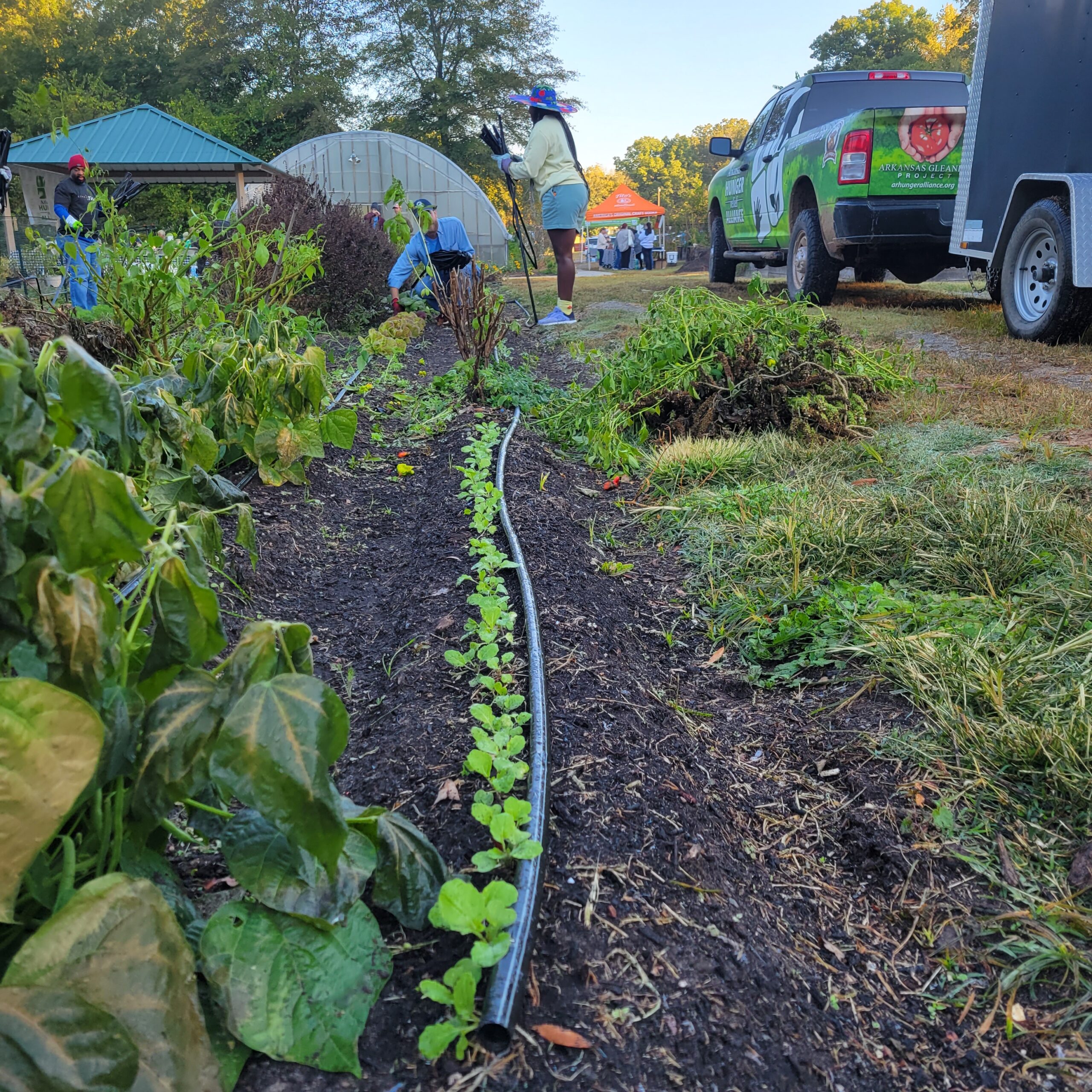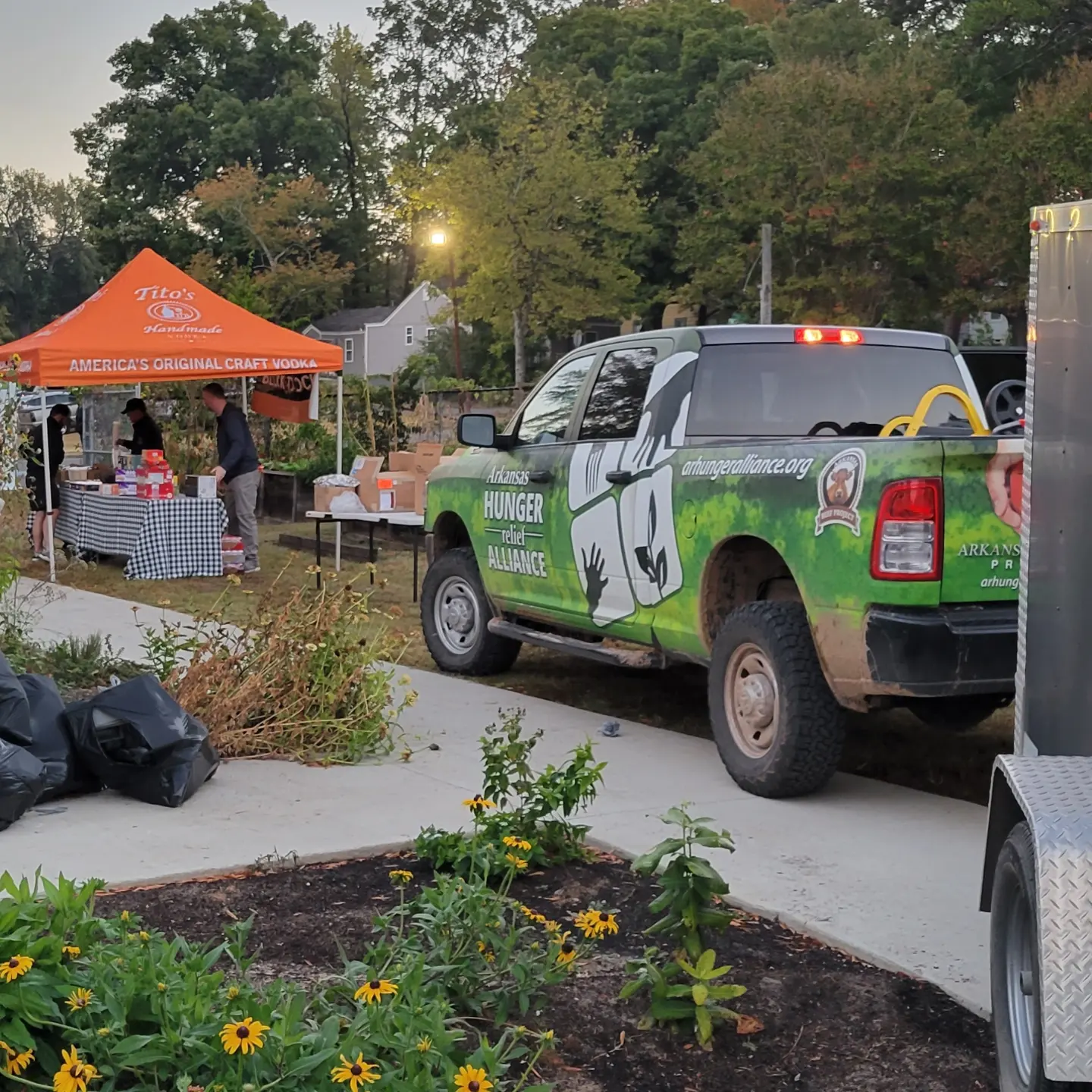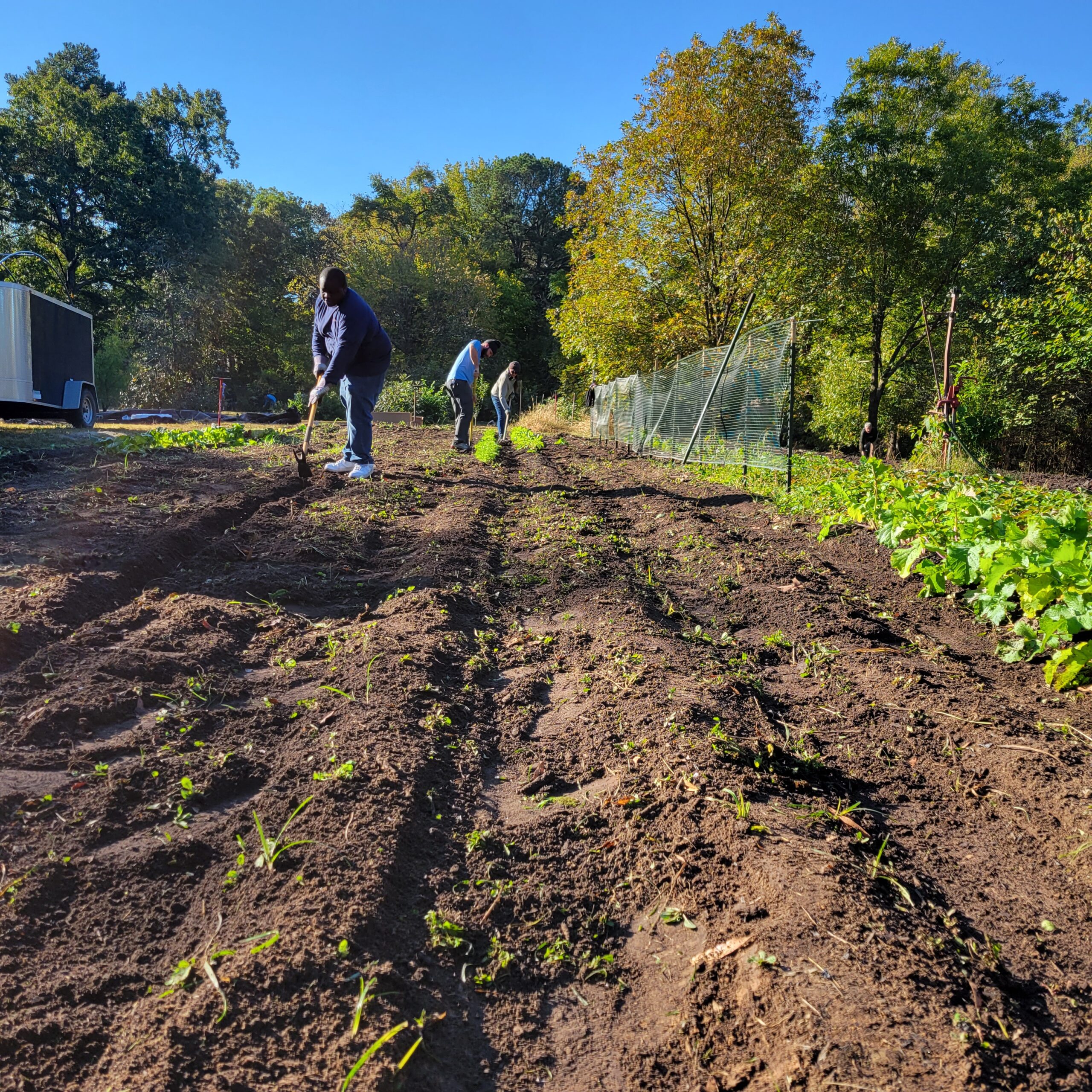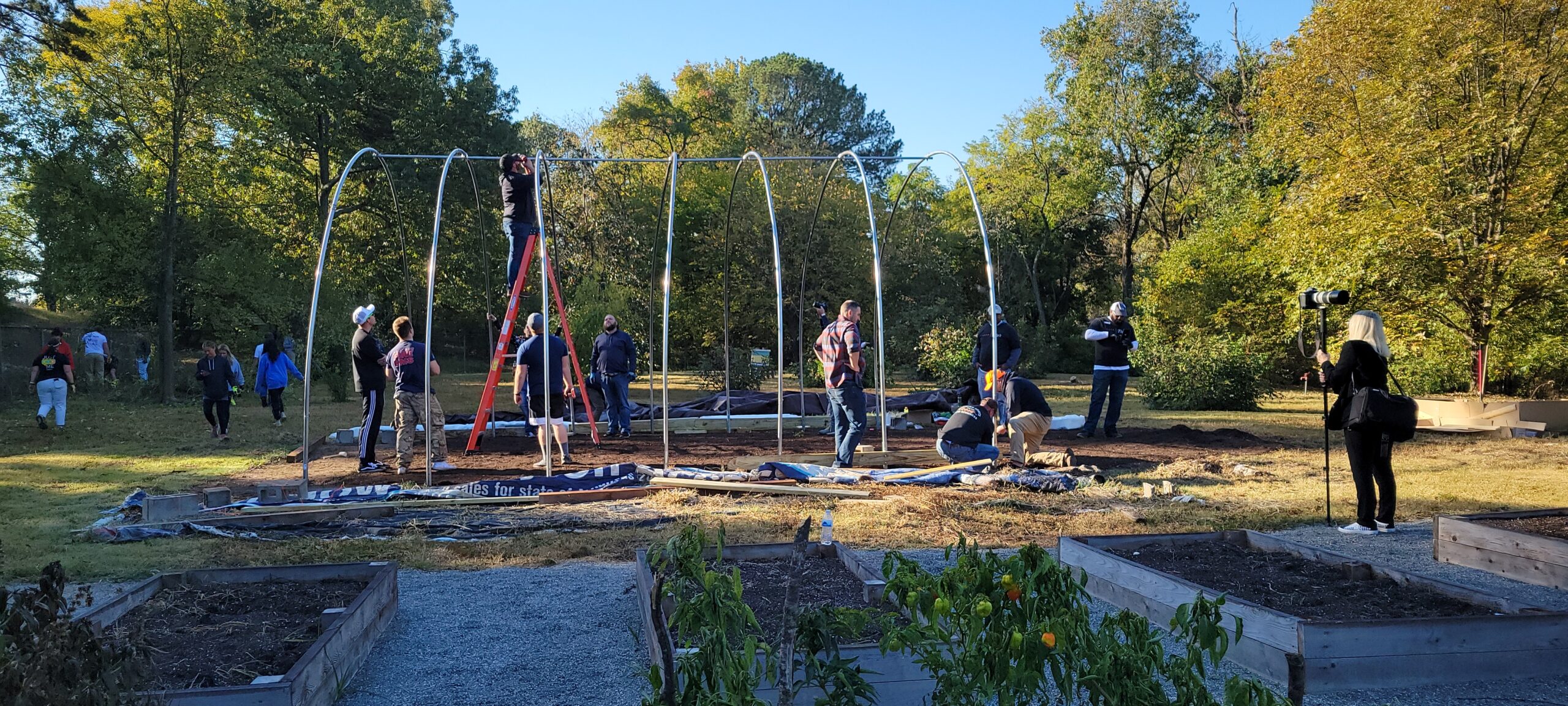 The additions and improvements to the garden will increase sustainability and encourage community members to engage with their neighborhood garden. The area of Little Rock served by the Oak Forest Community Garden is near UA Little Rock and has long been a food desert, making this source of fresh fruits and vegetables even more important to the community.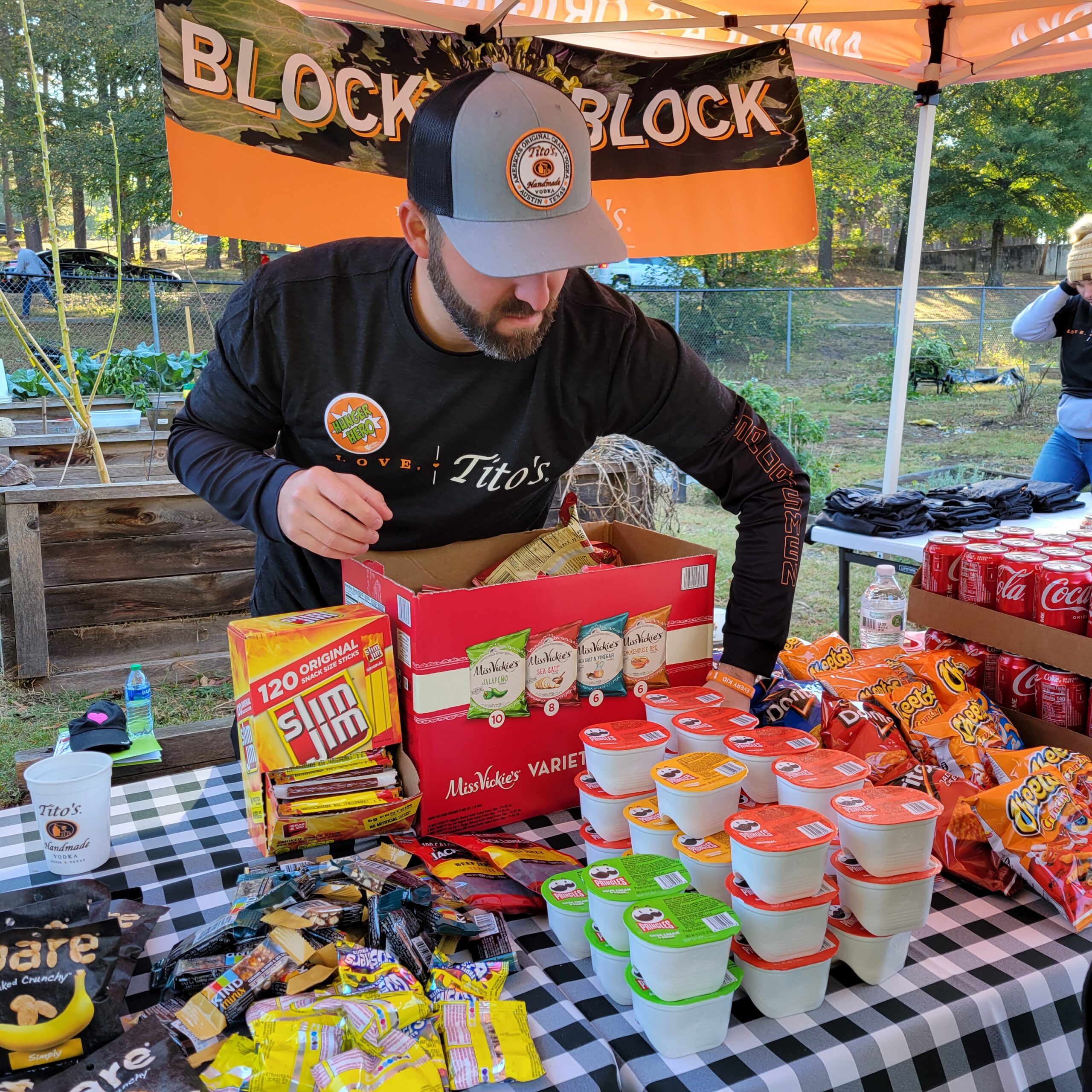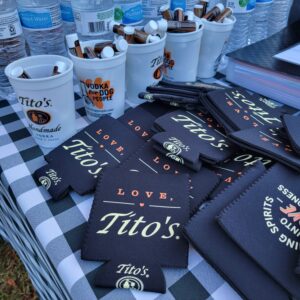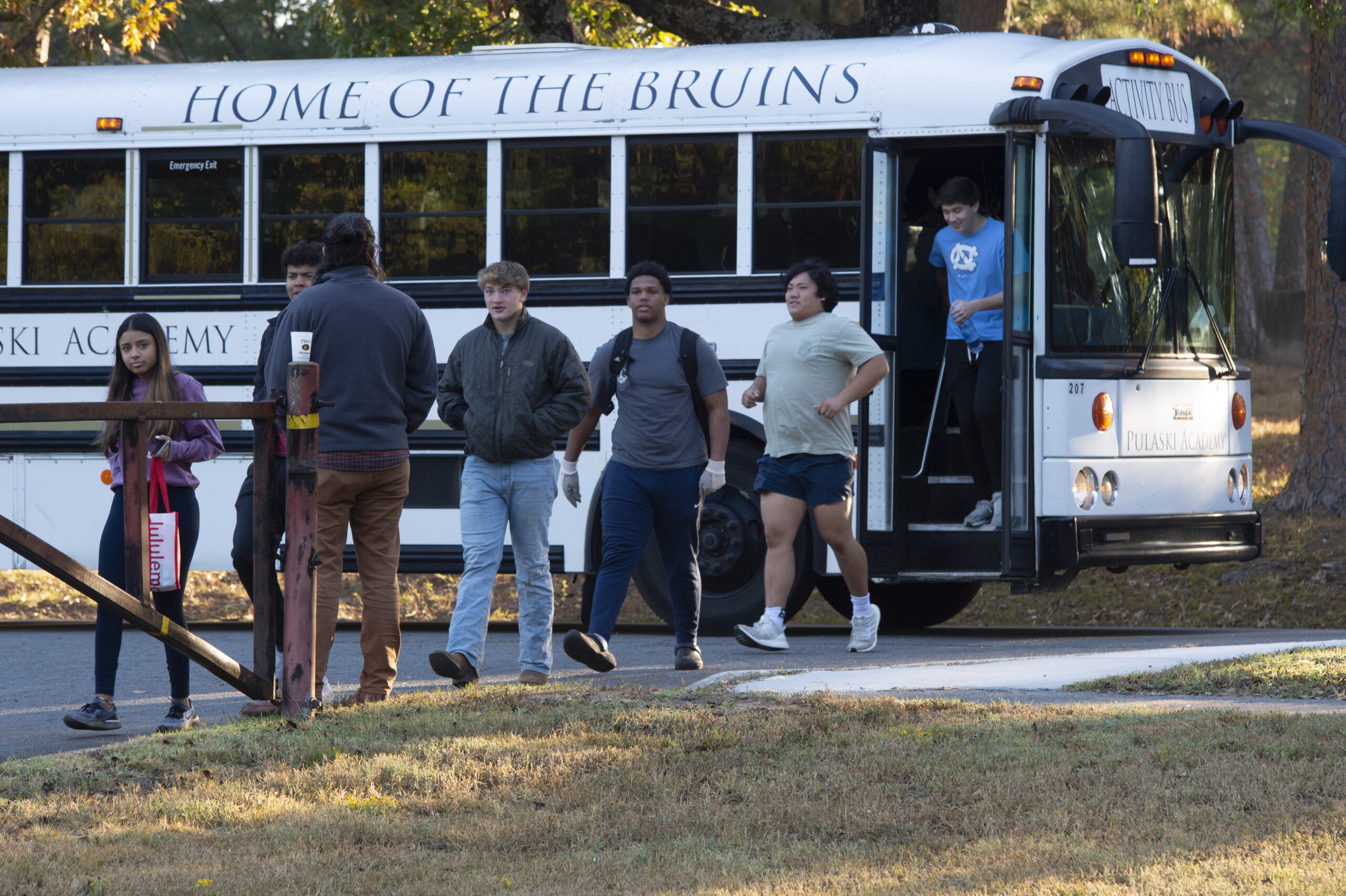 On Friday's workday, 150 volunteers completed improvements throughout the garden. Volunteer groups including Simmons Bank, Arvest Bank, Blue Cross & Blue Shield, AT&T, Be Mighty Little Rock (Central Arkansas Library System), UA Little Rock, Southern Glazers Wine and Spirits, and students from Pulaski Academy joined members of the community and other volunteers. Morning coffee and snacks, complementary t-shirt, and lunch were provided to volunteers by Love, Tito's.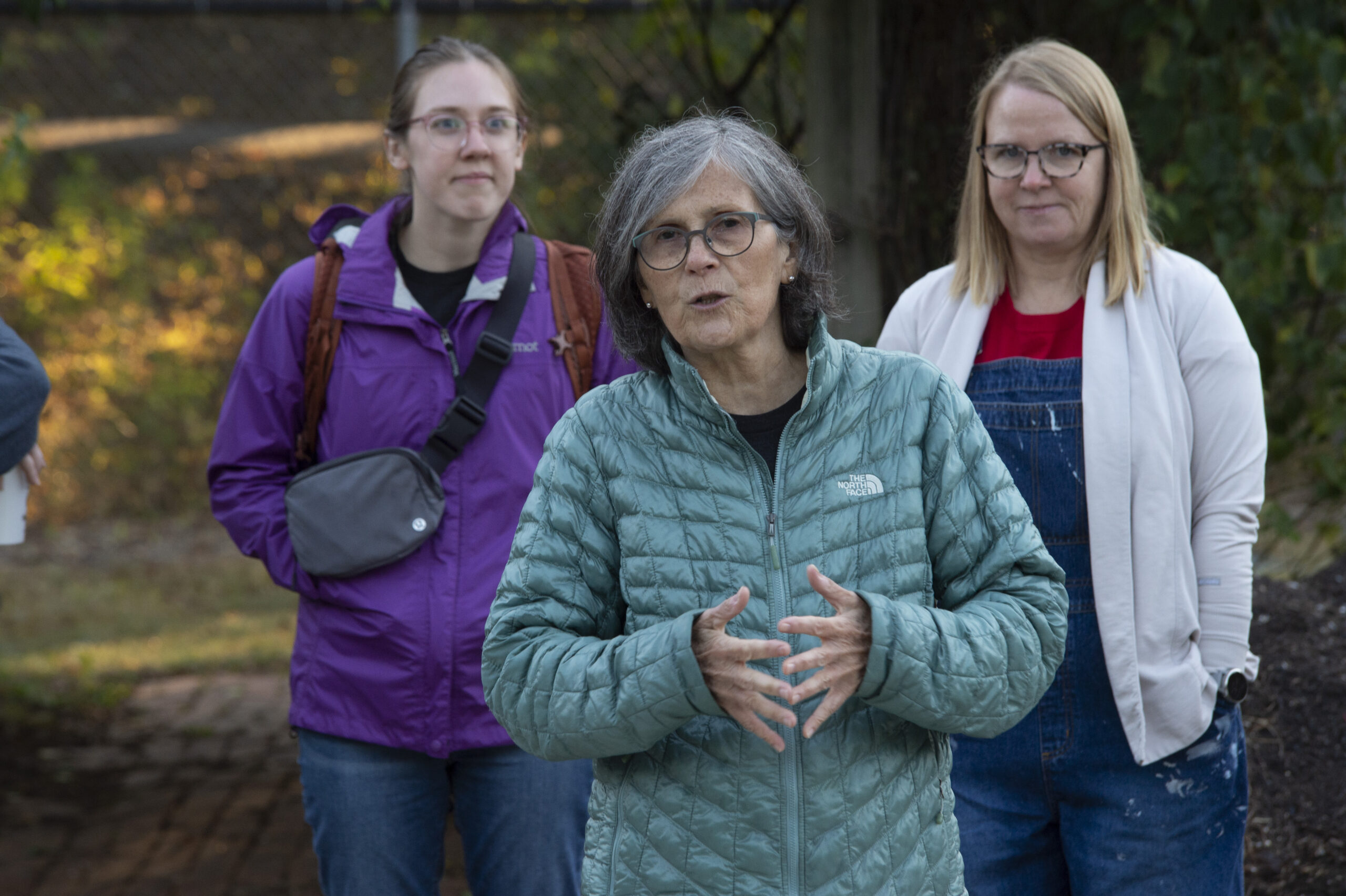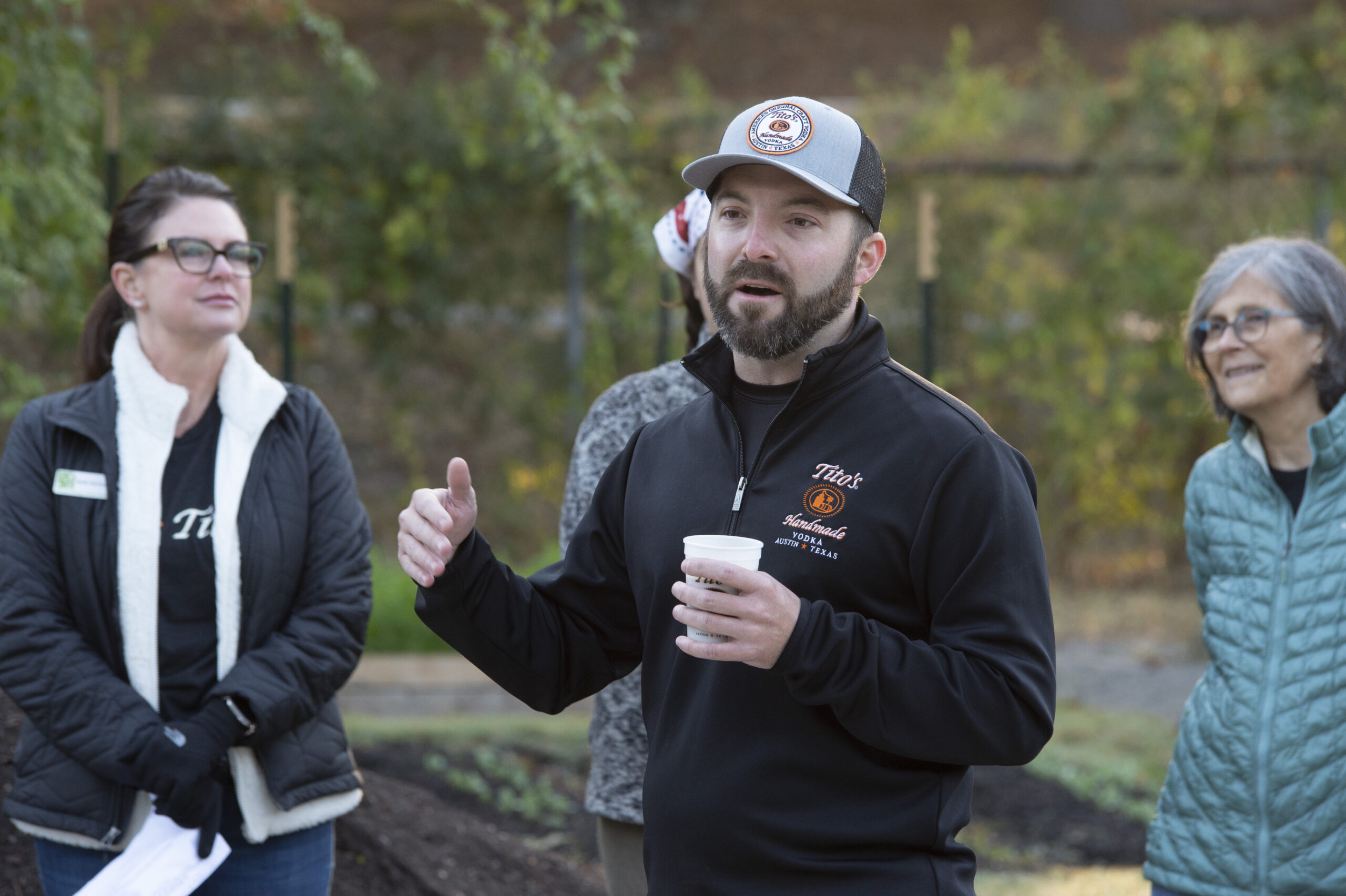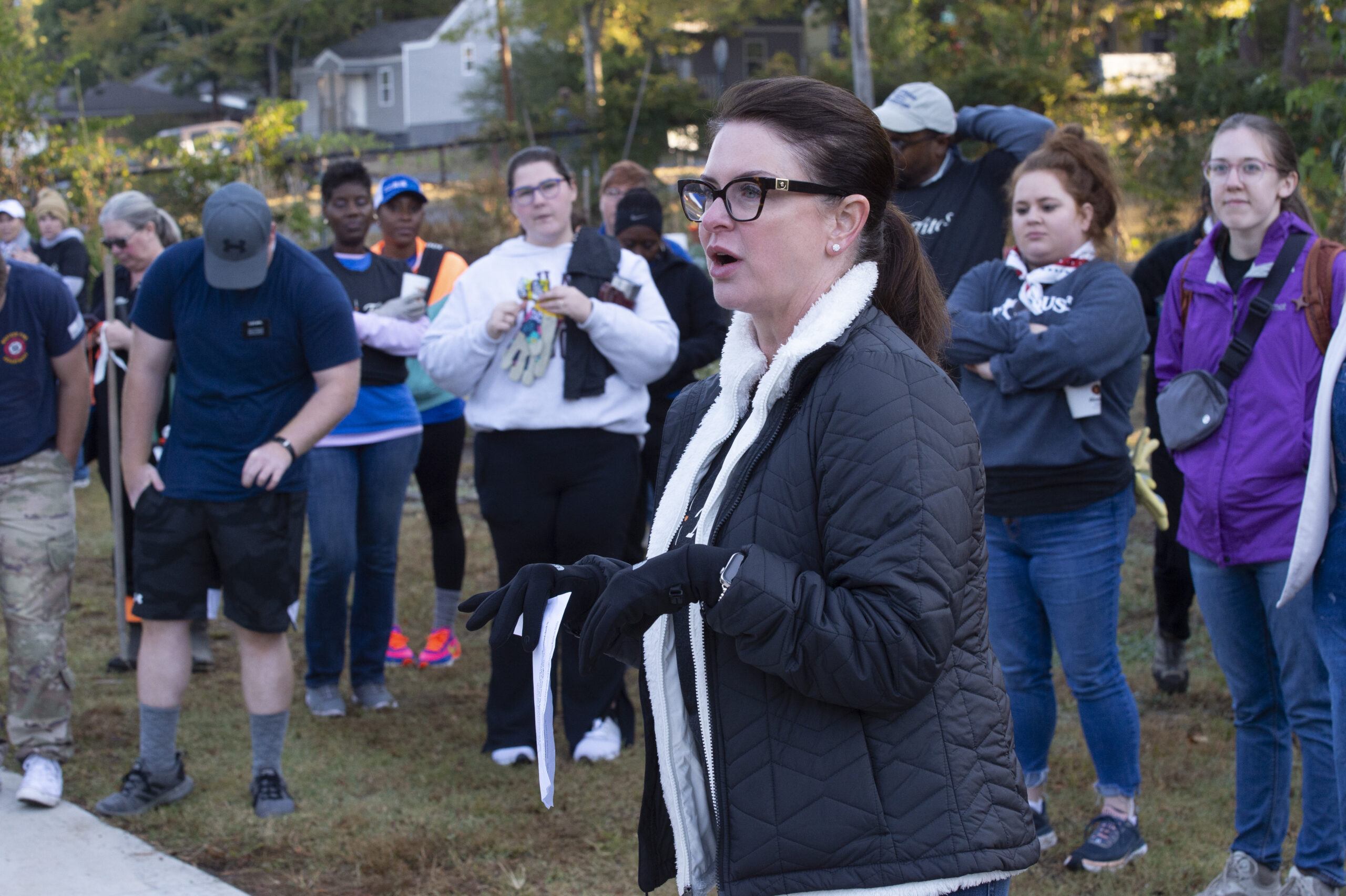 The chilly morning kicked off with a brief welcome from Alliance CEO Kathy Webb. Trip Cobb, with Love, Tito's explained the importance of projects like Oak Forest Community Garden and why Tito's Handmade Vodka supports organizations like the Alliance. Alliance Development Director Bobbi McDaniel introduced task leaders and the morning groups got to work.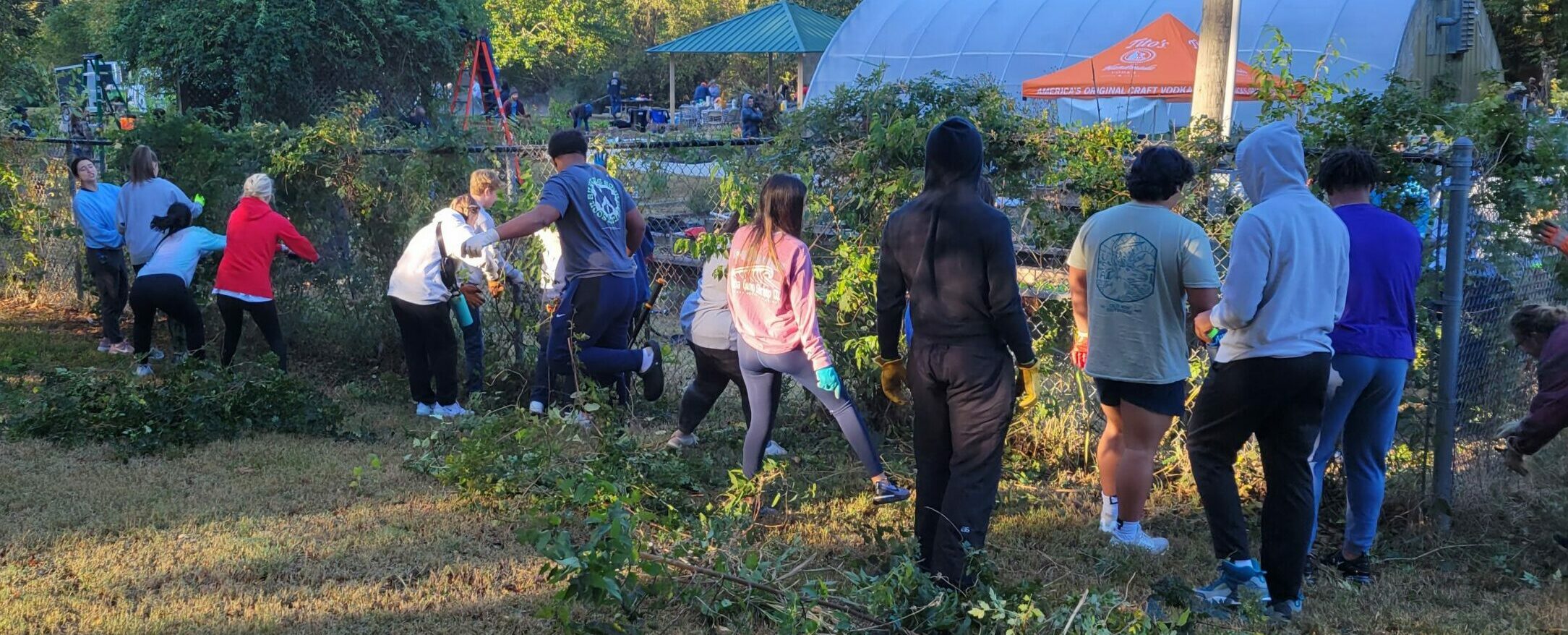 Students from Pulaski Academy made such quick and cheerful work of clearing one fence line, they went ahead and cleared an additional section. Other volunteers cleaned out garden beds and helped spread compost to prepare for fall planting. The overgrown arbor was completely cleared, and roses pruned for spring growth. A storage container was cleaned out and organized for optimal use.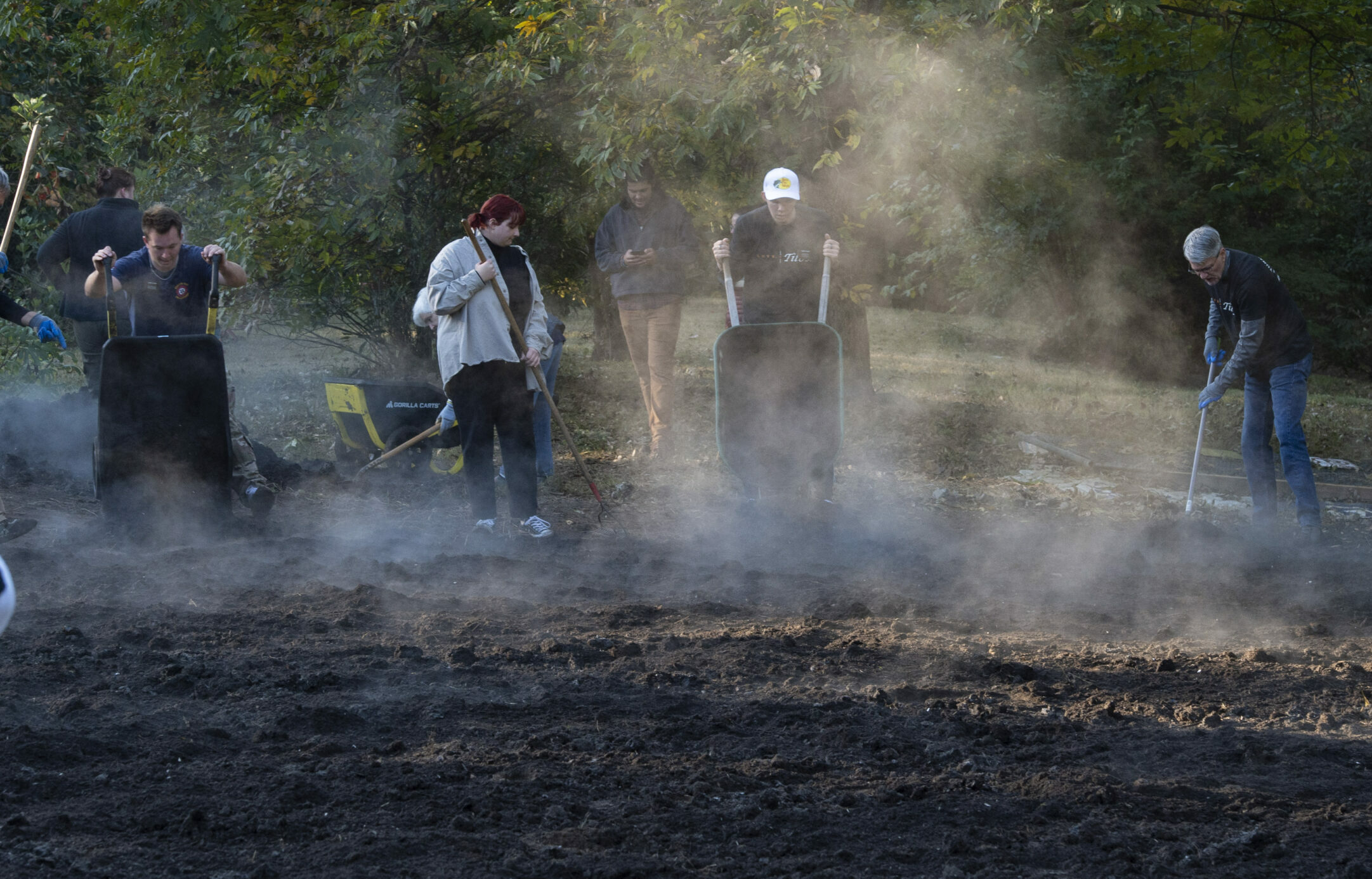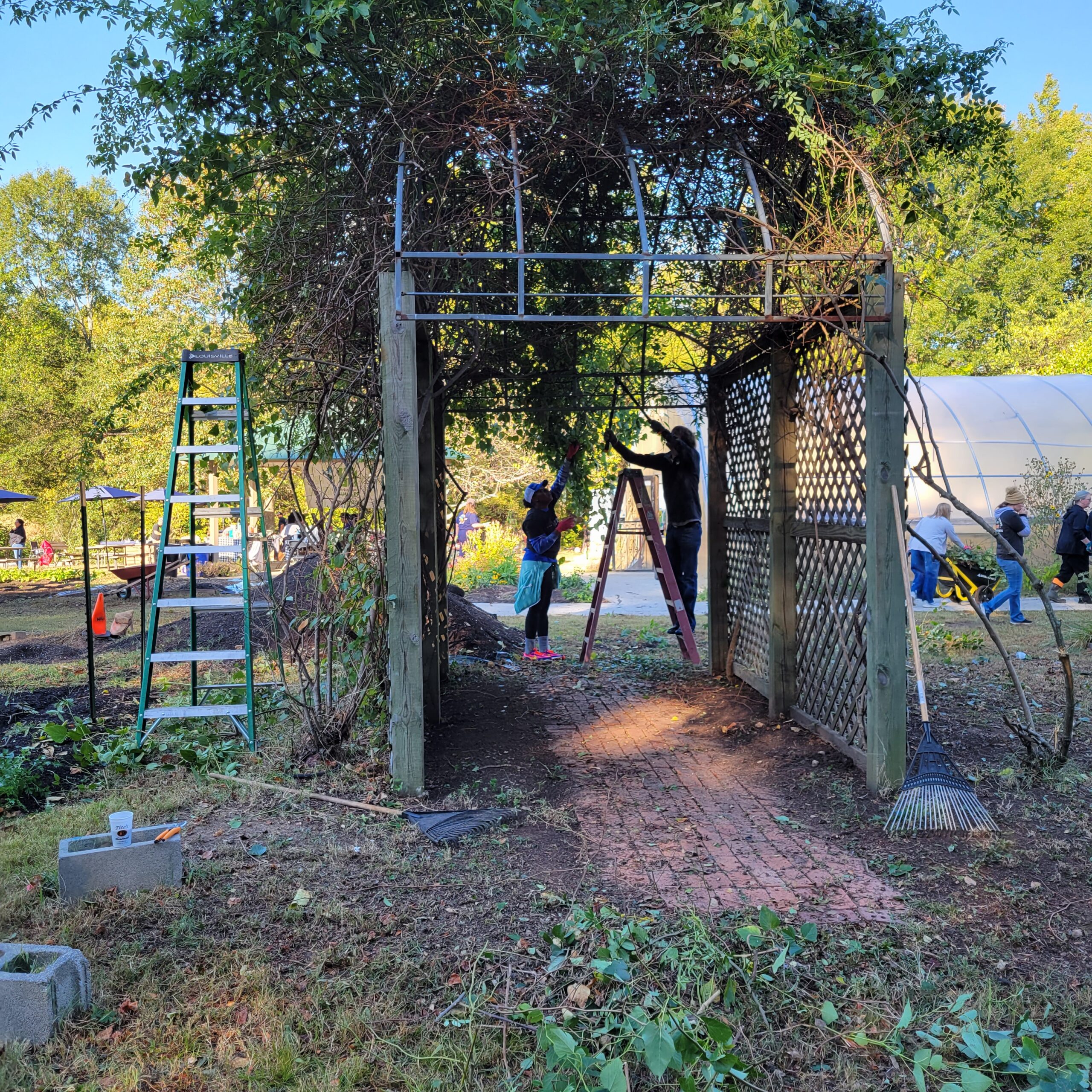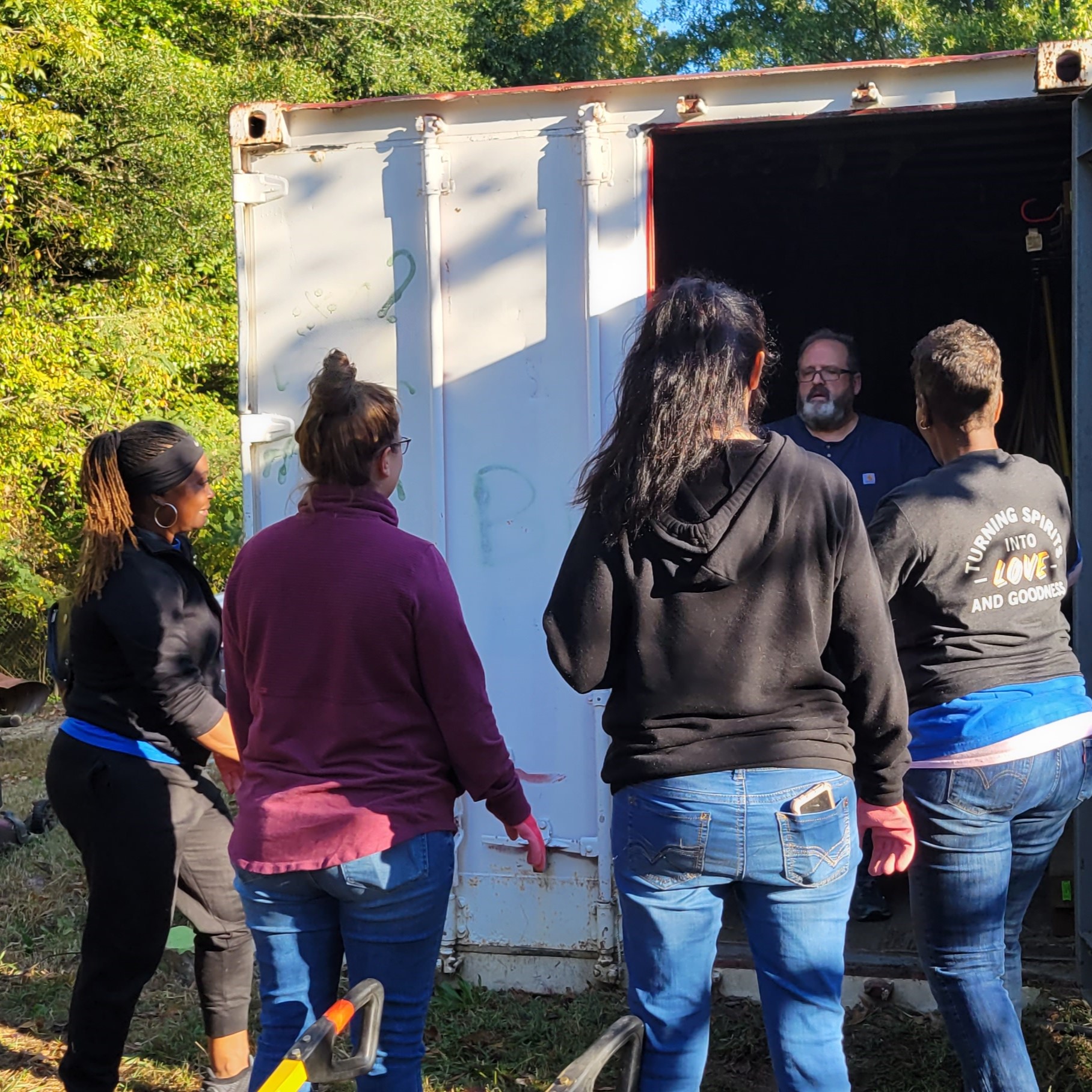 The sun came out and the day warmed. Volunteers could be heard laughing, encouraging one-another, lending a hand, and enjoying working as a team. It was fascinating to watch the transformations taking place all over the garden.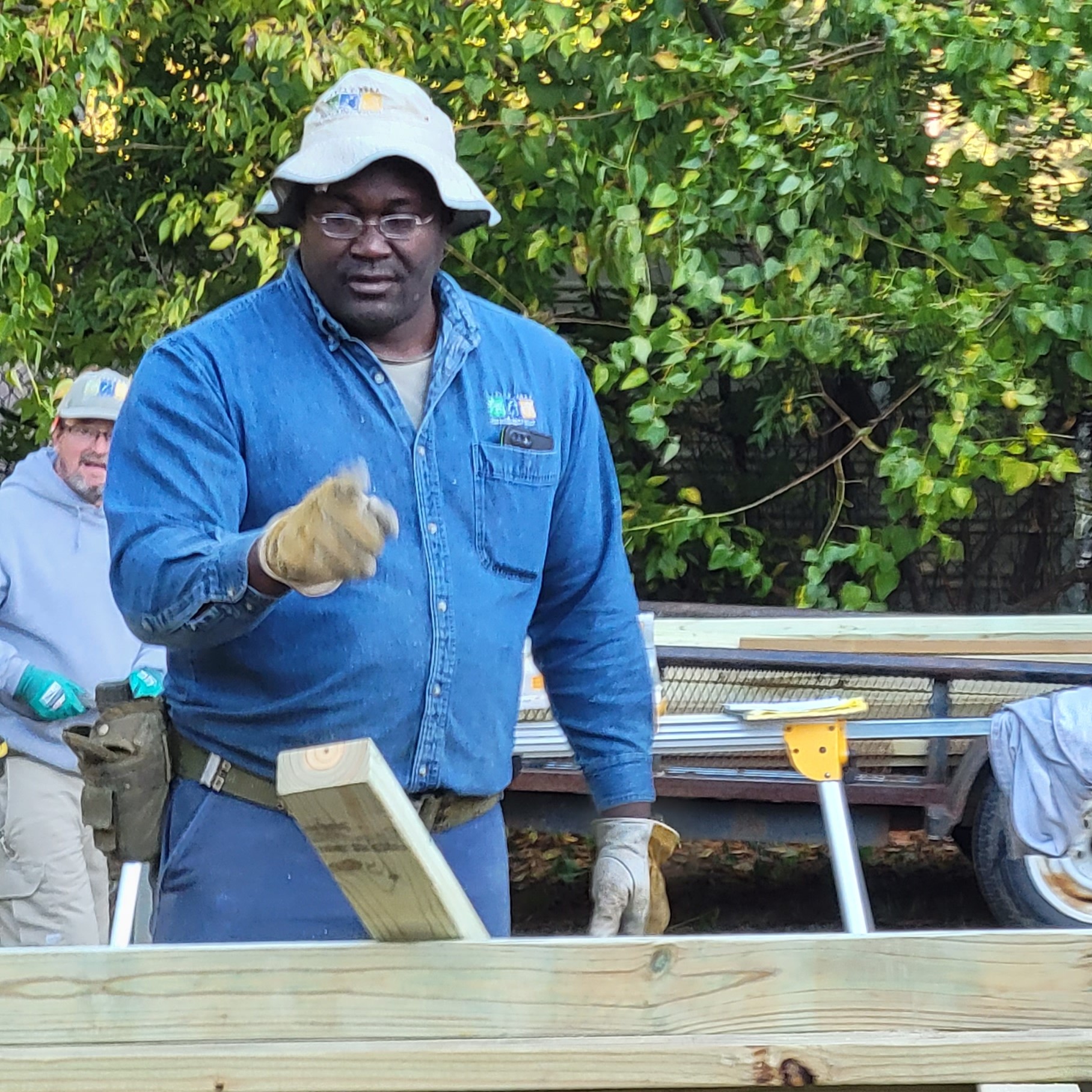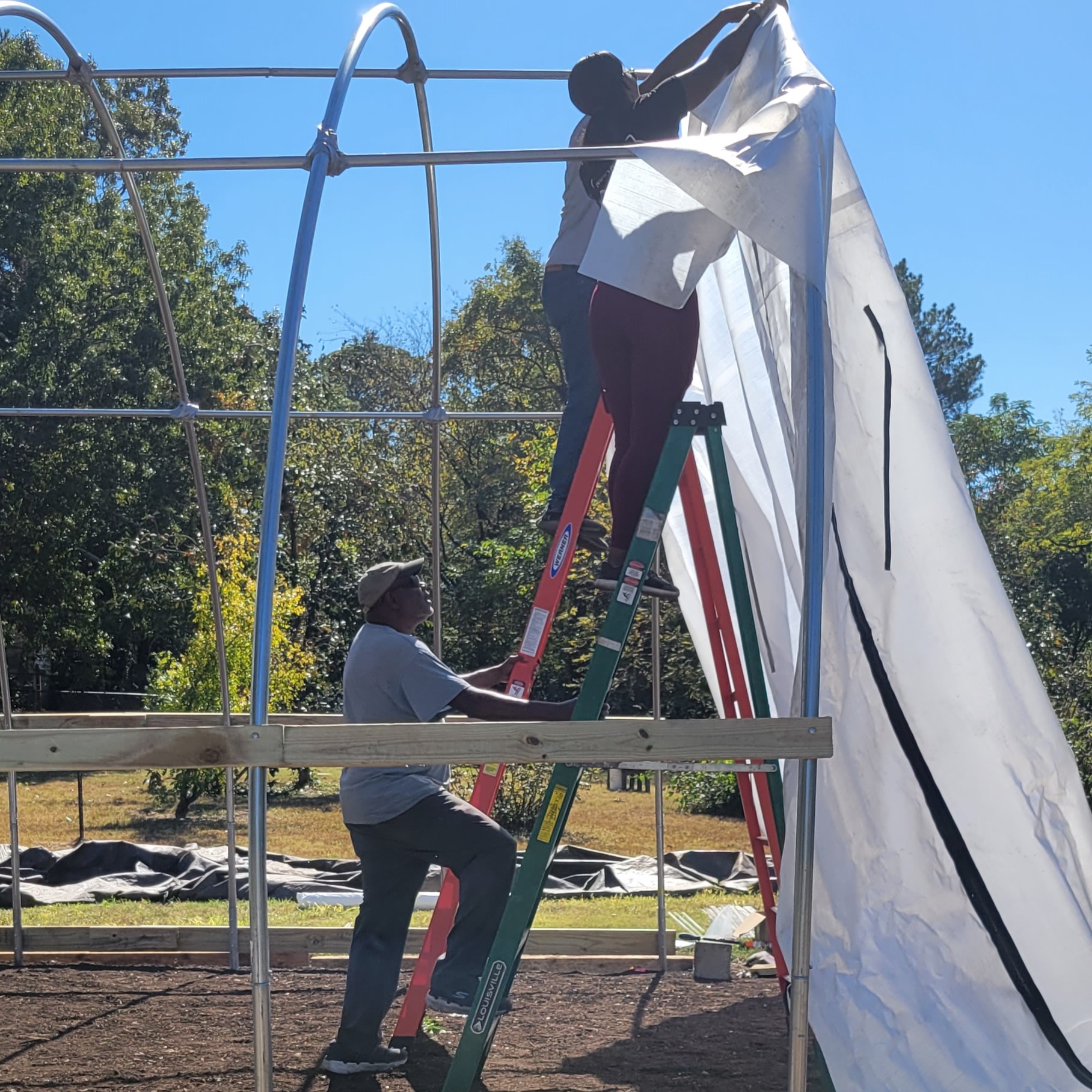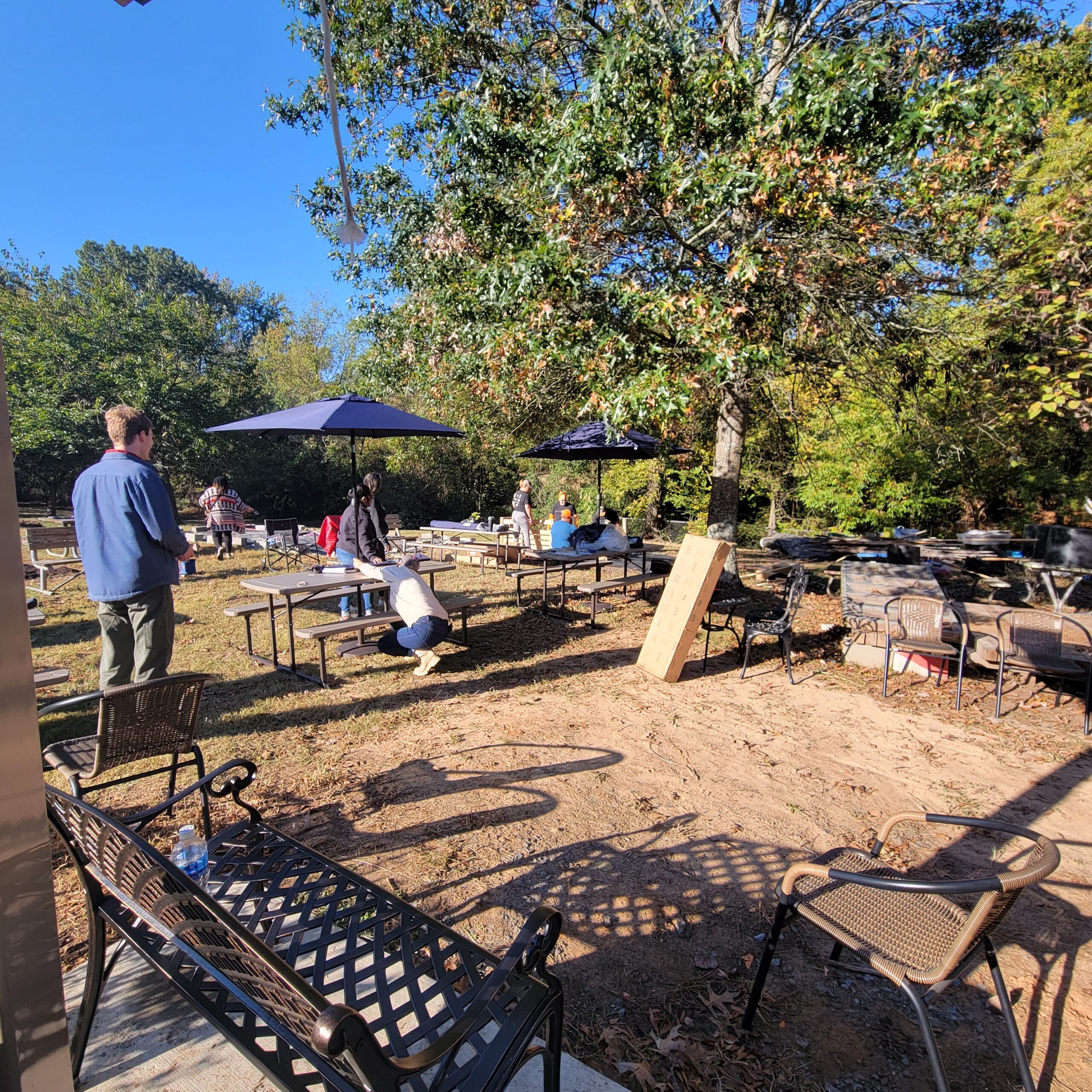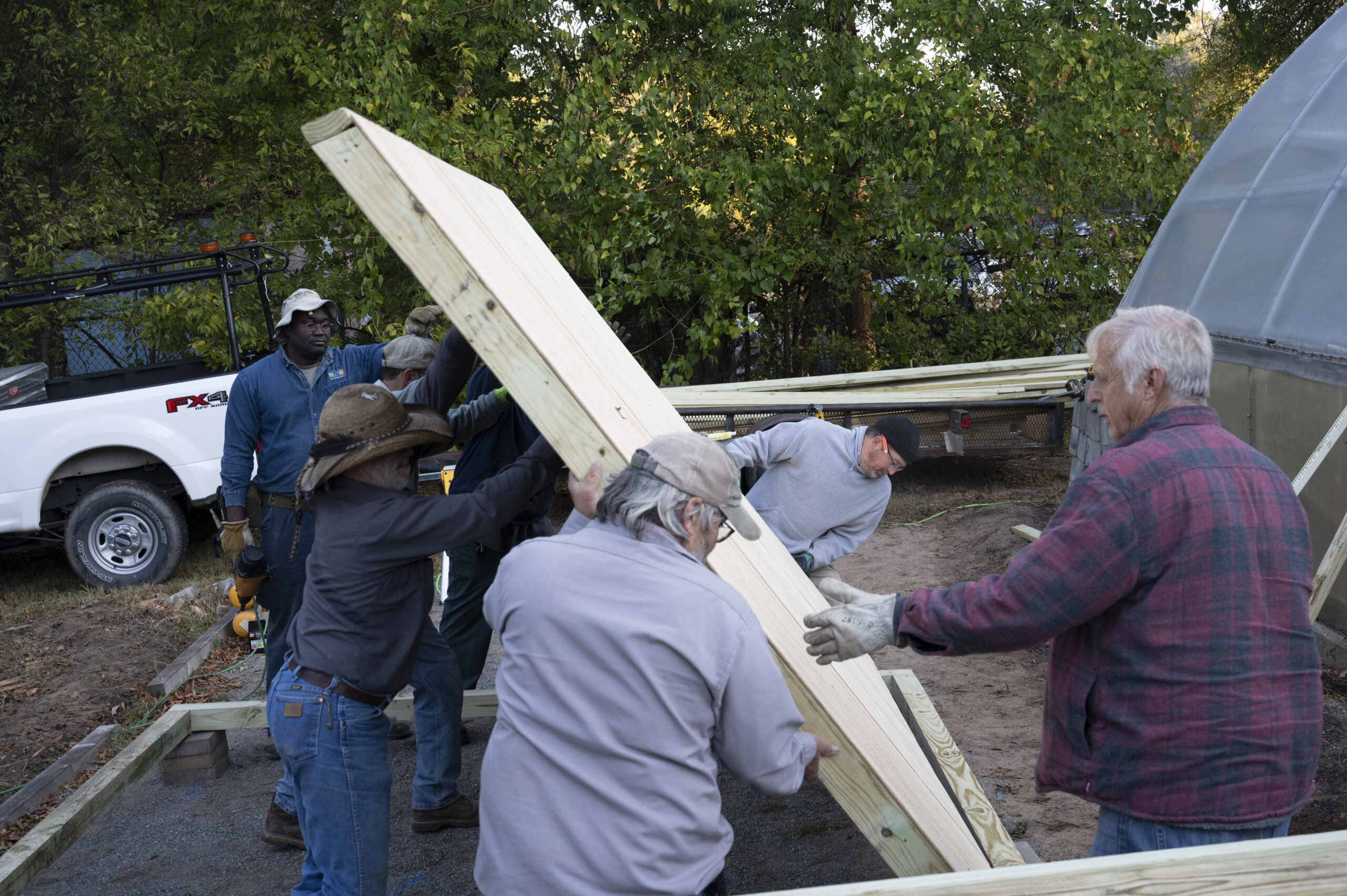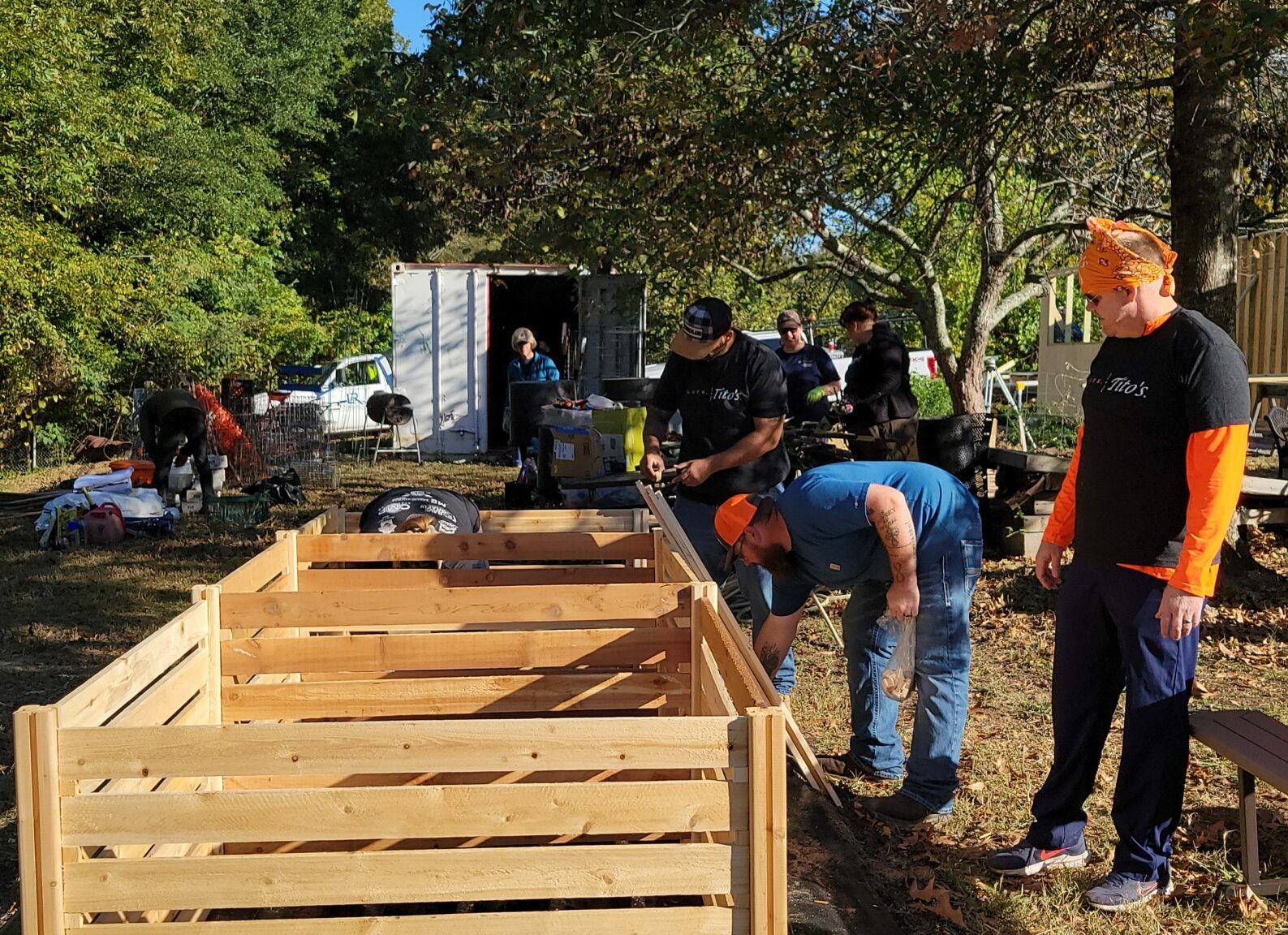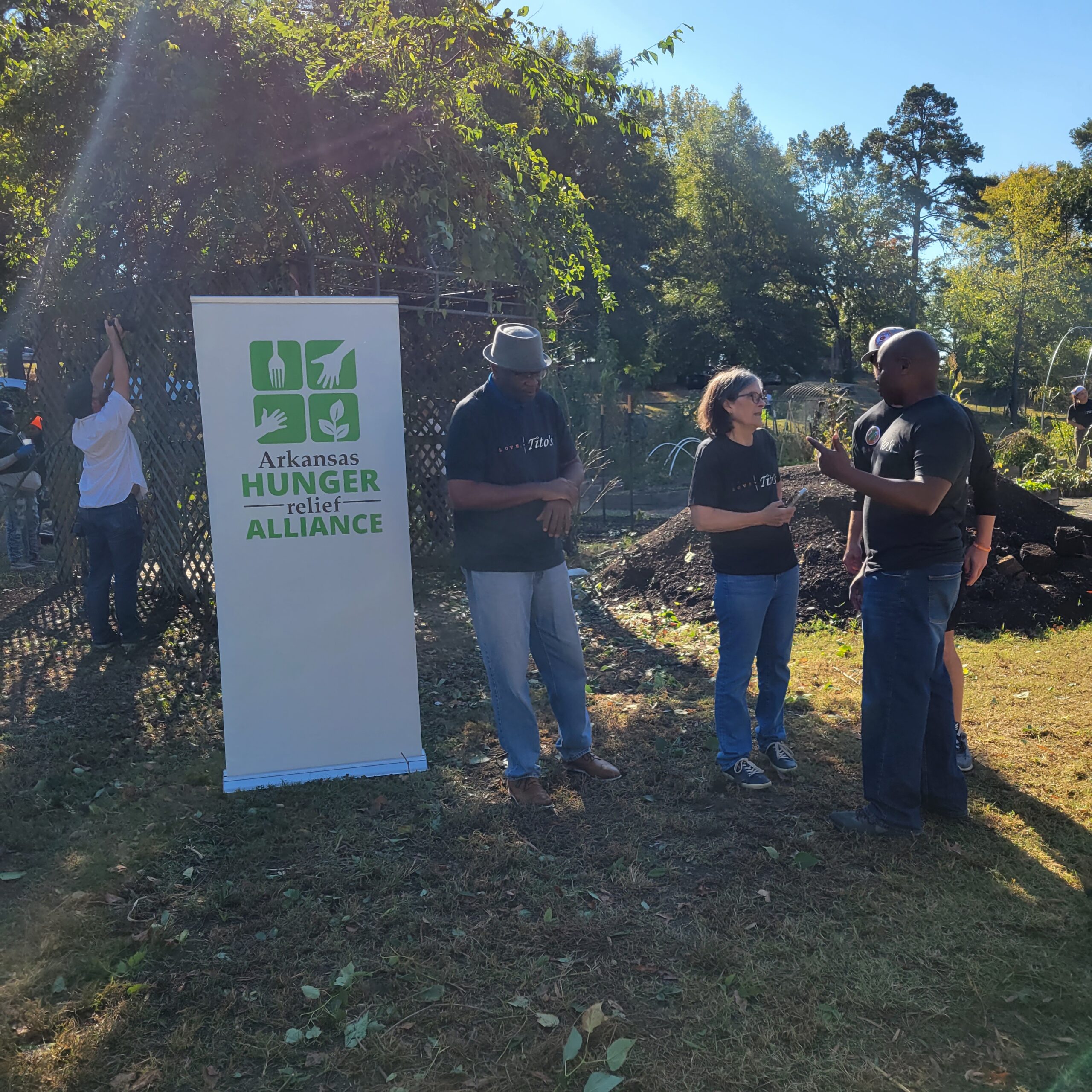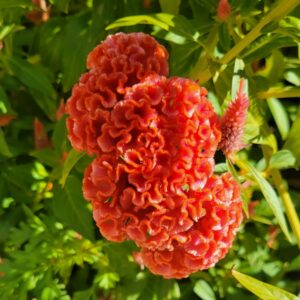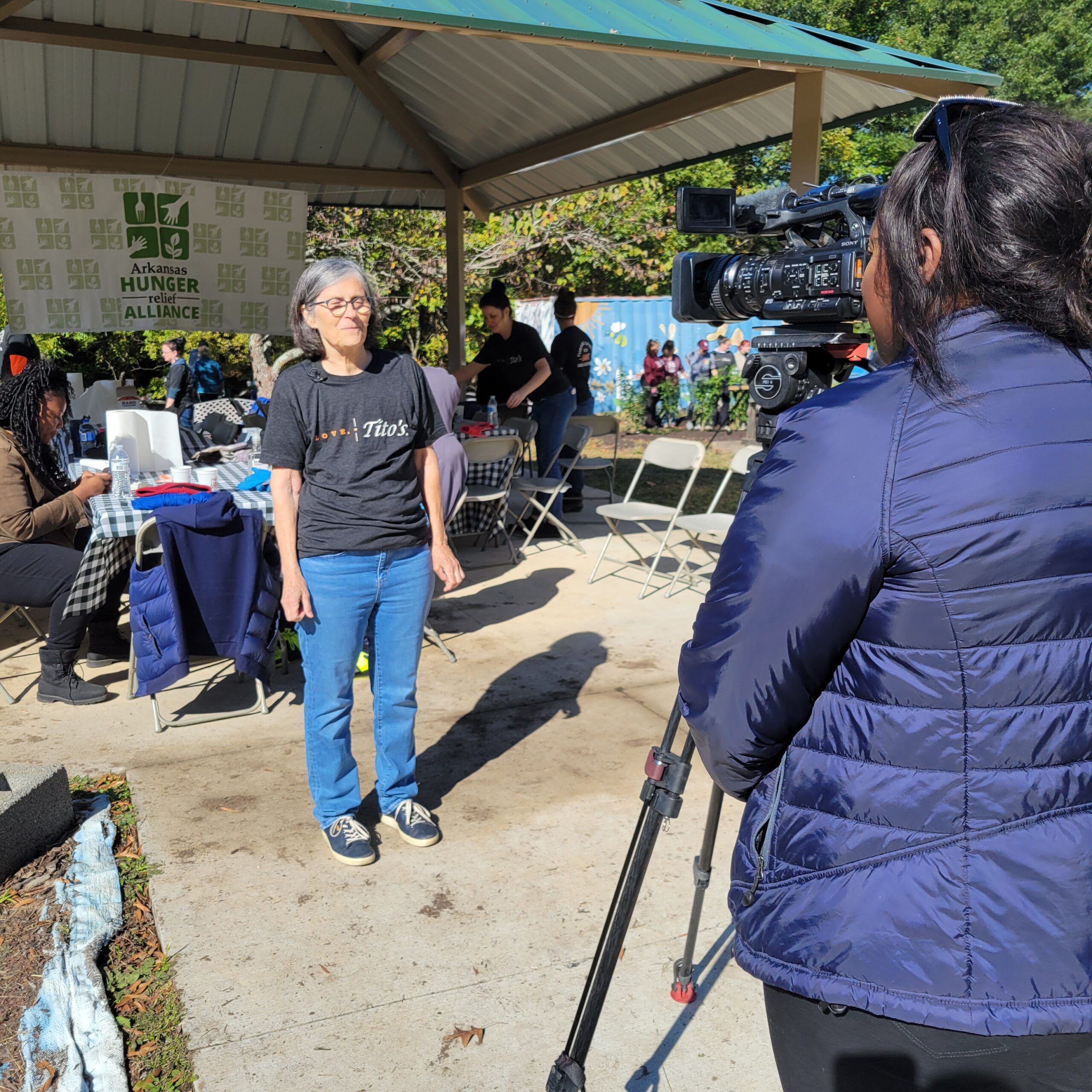 While work continued, a short program for the press at 10 a.m. highlighted community leaders who helped make the workday possible. After an hour lunch break at noon, work continued with the second shift of volunteers at 1 p.m. and wrapped up around 4 p.m. Watch KATV's story here.
The following is a list of improvements completed on the workday:
Added 20' x 24' high tunnel hoop house that will extend the growing season
Added 10' x 12' shed that will house commercial grade refrigeration and washing station
Over 500 feet of overgrown fence surrounding the garden cleared
Over 15 cubic yards of compost spread
Constructed three-chamber composting station
Established 1,200 square-foot garden bed
Assembled and placed 15 new tables, benches, and chairs
Cleaned and organized storage space
Cleaned existing garden beds
Quick Facts about Oak Forest Community Garden

The community served by the Oak Forest Community Garden is in a food desert and the garden provides food insecure community members access to healthy, fresh produce.
The garden currently has a full-time garden manager and is open to the public through the week. The garden hosts the University District Farmers Market May to October.
The garden occupies 1.2 acres and features traditional raised beds, communal rows, a heated greenhouse, a developing youth section, ADA compliant high beds, a rose arbor, fruit and nut trees, a storage container, and a covered pavilion.
The area has been a working garden since the early 1990s and is home to several mature Asian persimmon trees as well as two jujube trees, a pomegranate, and a black walnut tree in the orchard at the south end of the garden.
Last spring, with the help from volunteers, Oak Forest Community Garden donated nearly 1,100 plants to area gardens by utilizing the greenhouse to start plants from seed.

For more information about the Oak Forest Community Garden, find them on Facebook at www.facebook.com/OakForestCommunityGardenLittleRock or follow them on Instagram: @oakforestgarden.